A couple months ago I won a lovely print from KimPossible and I thought I would share how I displayed it.
First off, here is the print I chose, isn't it just bright and cheery?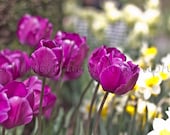 I wanted something like a distressed wood frame so I went to the store to see what I could find. After picking my jaw off the floor a couple times, I decided to leave the retail store and head over to Goodwill. I knew I wouldn't find what I wanted there, but perhaps I could find something that I could make work.
I couldn't believe what I found! Mission style, unfinished frame. The print was rather interesting too. 🙂 And I paid less than $3, so I was pretty stinkin' happy!
Now, of course, I was super brilliant and failed to take any photos of the process. But it was really basic, since the wood wasn't even finished all I had to do is put a layer of paint on the frame and let it dry.
The grain in this frame is absolutely gorgeous and soaked that paint right up. Then I took a fine piece of sandpaper and rubbed over the entire frame lightly to distress it.
I loved how it looked after that, but thought I should put some type of finish on it. I wish now that I would not have done that. I found a can of clear varnish in the garage, but it didn't dry very clear. In fact it's almost yellow in places but oh well.
Those bright cheery tulips and that distressed wood frame, I love it!
In spite of the slight yellow look to it, I am very happy with how the frame turned out. It makes my sewing room/craft room/office very cheery looking.
(Visited 720 times, 1 visits today)