Why do I wear a covering? You know, if I had a nickle for every time some one asked me that… I would have a lot of nickles. 🙂
It is however, a valid question and one I am always happy to answer. And since I've started blogging, I have received many emails that question why I wear a covering. I have even had people ask me to blog about it. I've always said no, but after some thought and prayer, I decided to share.
I wasn't hesitant to share because I am ashamed, but because this is a very controversial subject. What I am going to share is my personal convictions and what I feel God has told me through his inspired word, The Bible.
Why I wear a covering:
What if you picked up the Bible, opened it up and decided to take the words you read in a very literal sense? We all like to sit down with a study Bible and note pad, and take notes, cross-reference and "really learn". But what if, the you opened the bible and took these God Inspired words at face value?
Every thing written in this book has a purpose. I do not feel that there would be anything in there that had nothing to do with our Christian walk. So assuming that everything written has a purpose, and the words of this book are to be taken at face value, (what it says is what is means) lets read.
1 Corinthians 11:5-6 But a woman dishonors her head if she prays or prophesies without a covering on her head, for this is the same as shaving her head. Yes, if she refuses to wear a head covering, she should cut off all her hair! But since it is shameful for a woman to have her hair cut or her head shaved, she should wear a covering. NLT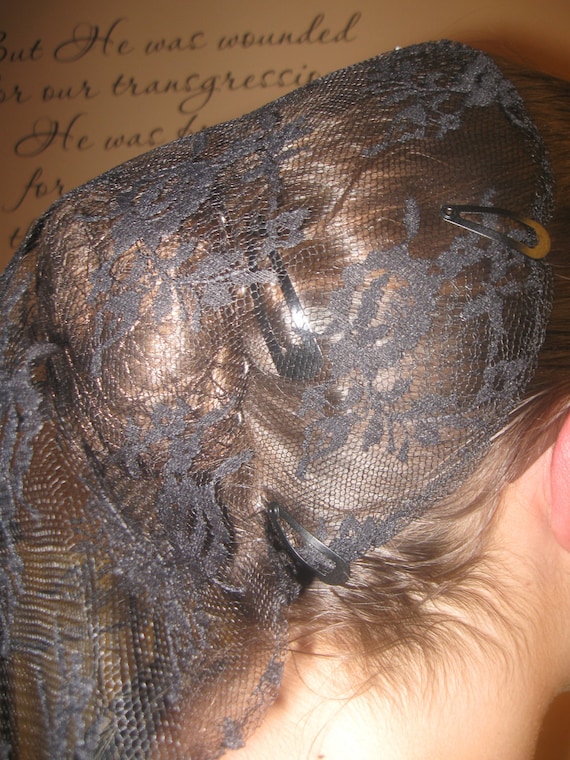 Why would the above verse be in the Bible, unless it still held water for today? We could say, "well that was the custom of that day." But the ten commandments were issued long before Paul's time and they still hold true.
Below is a painting done by a mid 1800's artist. Notice all the women are wearing hats to cover their heads.
Above are two different paintings/drawings, from two different eras. It looks as though women take covering their heads, very seriously. Have we, in this century become so enlightened that we no longer need to follow Gods word?
What about headship? 1 Cor. 11:3 …The head of every man is Christ and; the head of the woman is the man; and the head of Christ is God. KJV
vs 10 For this cause ought the woman to have power on her head because of the angels. KJV
vs 10 For this reason, and because the angels are watching, a woman should wear a covering on her head to show she is under authority. NLT
Gods word is very clear. The woman was placed under the man, For Her Protection. When a woman is covered she has a power that most of the time isn't even recognized. Being also a witness to the world.
I have a couple of stories that I should share sometime soon…
I do want to clarify. While these are my personal convictions, based on what I believe God's word says. I want to encourage you to search and discover for yourself, what God wishes for you, his beloved daughter.
This decision to wear a covering is between you and your husband. If you wanted to cover your head to show your obedience to your man and he doesn't like you to cover your head, I would caution you to pray long and hard!
A friend of mine felt that she should wear a covering. But when her husband saw it, he didn't like it and thought it unnecessary. However, he did like the idea of her having longer hair. So she is still able to honor him.
(Visited 14,733 times, 2 visits today)