Today I want to share with you a shop belonging to one of my sponsors. Duplika Handmade.
Your shop name; Duplika Handmade, I have never heard of that. What does it mean, and what was your inspiration for choosing that name?
The name Duplika has been with me, in my head, since I was a child. I first heard the name on a morning cartoon. It was one of those words or names you hear and instantly take a liking to but you have no rational reasoning behind it. It reminds me of when someone hears a name they like and instantly knows that they'd like to name there future pets or children with that name. It became something special to me. Something that I kept in my head for 20 years waiting for the right time to use it.
Right now I mostly see jewelry in your shop; is the rumor that you will be adding a new line true? What kind of items can we be looking forward to?
Ah yes! That is true! I chose to add "Handmade" to the shop name because I would like to have a few different lines of work. They would all have a underling theme that pulled them together. Jewelry was what made sense for me to start out with. I work for a ceramic artist who happens to have a jewelry supply shop on Etsy called Bunnysundries. I'm around jewelry all day. And I've taught a few jewelry 101 type classes at a local Jo-Ann Craft Store.
My true passion is ceramics. That is what my degree is in. My main goal this year is use the jewelry line to start up a ceramics line to sell on Etsy.
Your items are unique and very pretty, where would you say you draw inspiration from?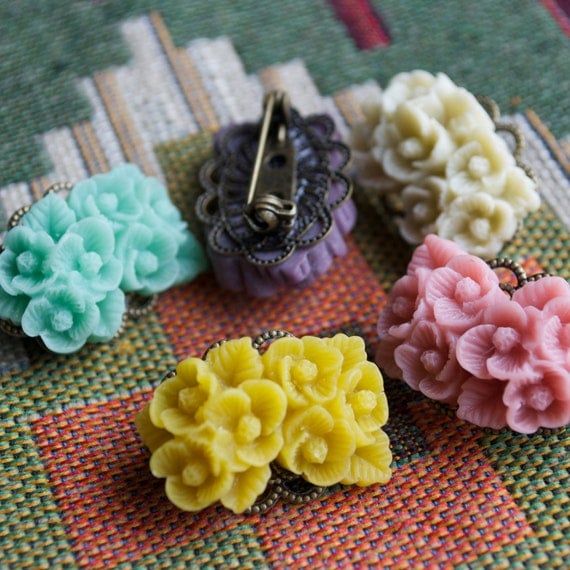 Color is a huge inspiration for me. Color can tell a story, express a feeling, change moods and countless other things. Color draws me in, it instructs me and challenges me when I make. I'm also a very tactile person. My clay background has made me that way. I gather information and am inspired by surfaces. The smooth matte finish of a brass charm or the slick high gloss of a resin bead. Those things speak to me when I'm making.
Now we all love good deals, so are there any good deals or promo codes my readers should know about for your shop?
I don't have a sale at the moment but I will be putting up a few pieces in the coming weeks that will be on sale individually. So check back for those!!
One lucky reader is going to win something from your shop. Care to tell us what it's going to be?
Thats right!! One reader will win my Lemon Yellow Floral Pendant Necklace. The design is one of my personal faves. Lemon yellow is one of Pantone's spring colors so it would go perfectly with any wardrobe this season.
(Visited 207 times, 1 visits today)