Since I am still on this juice fast, I will not be eating a traditional Easter dinner this year. But that didn't stop me from looking up some yummy Easter menu ideas. So here's an Easter Recipe Roundup for you!
So go ahead, look though, make some of these dishes and eat them for me! 🙂
Easter Recipe Roundup!
Easter Breakfast or Brunch, start the day out right!
Asparagus and Egg Easter Brunch.
Breakfast Easter Baskets.
Very cute and fun. I imagine the kids will want in on this as well.

Stuffed French Toast.
Just the photo is enough to make my mouth water!
Easter Side Dishes.
Roasted Asparagus.
I love asparagus, just about any way you fix it. So spring-y looking.
Apple Pear Salad with Lemon Poppy Seed Dressing.
I'm actually not a fan of fruit in my salads, but this one has some mouth watering
qualities that sure look good.
Creamy Spinach Gratin. Can I just say, "That looks amazing!"
Simple Fruit Salad. Very bright and colorful!
Layered Strawberry Salad.
These are so cute, but the site is not in English. Perhaps you can figure out how to make them, or translate the site. 🙂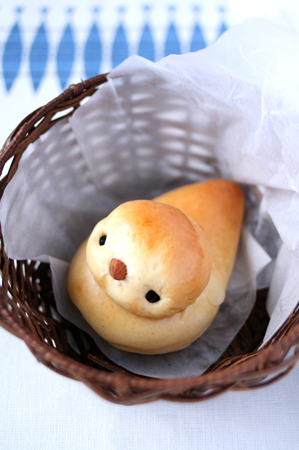 Bunny Buns, cute and easy!
Easter Main Dishes.
Roasted Leg of Lamb with Potatoes.
I've never ate lamb before, not sure how I feel about it, but this recipe sounds pretty yummy.
Greek Chicken and Potatoes.
Love anything that says Greek before a food name. 🙂
Maple Glazed Ham.
You really can't go wrong with ham for Easter. Or any other time of year for that matter.
Stuffed Pork Loin.
That is just drool worthy!
Easter Deserts and fun Treats.
"Carrot" Cake. Printable found Here.
Strawberry Cake. Isn't that the cutest thing ever!
Cupcake Push Pops, what kid wouldn't love them?
Meringue Nests. So creative and so yummy looking!
Empty Tomb Treats. These would be so fun to make with kids.
I do think the 2yr old is a bit young for it though. Maybe next year.
This last one takes the cake in my book: Marshmallow Lollipop Bunnies!
I hope you enjoyed looking through this Easter Recipe Roundup. And I hope you now have plenty of ideas for you Easter menu! Don't forget to eat some for me. 😉
(Visited 7,872 times, 1 visits today)